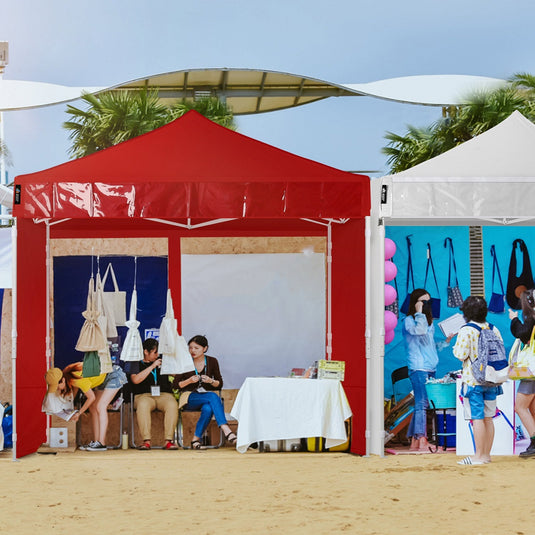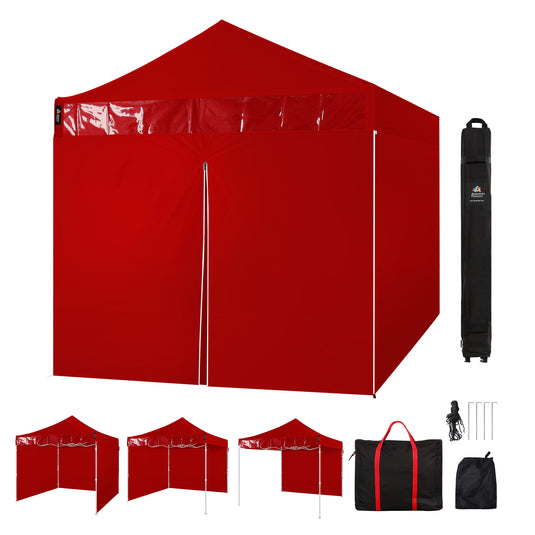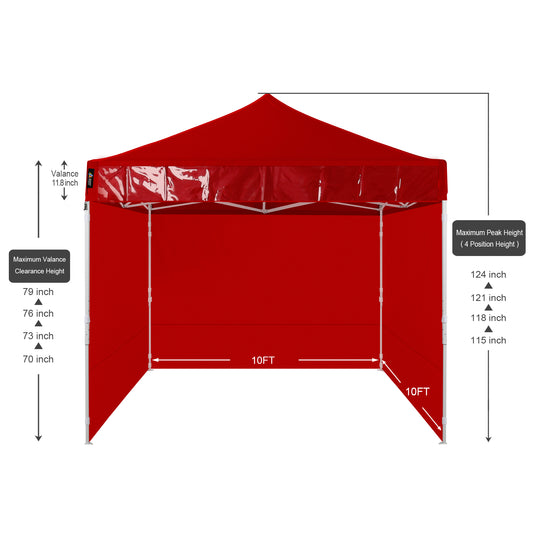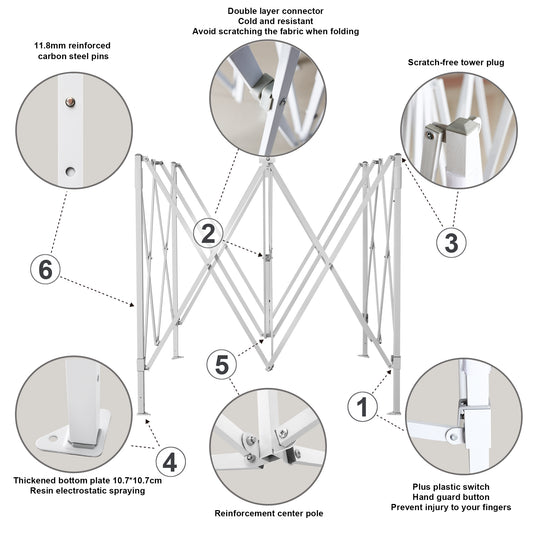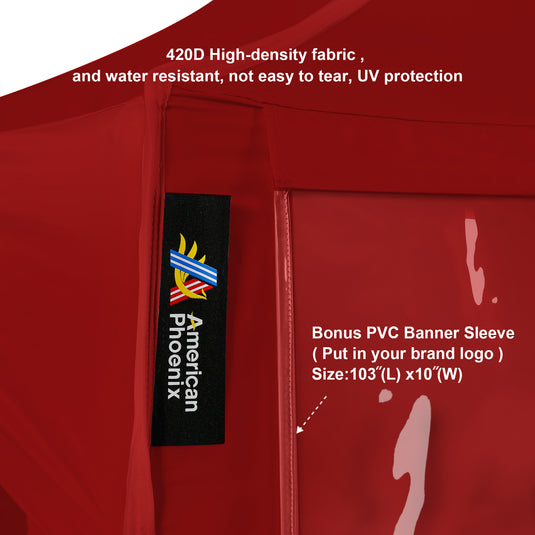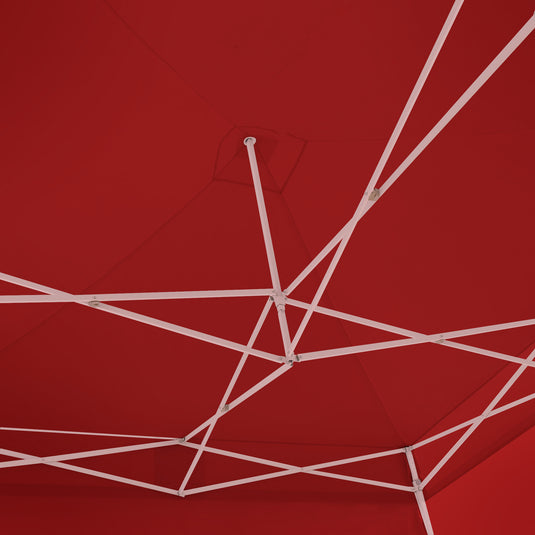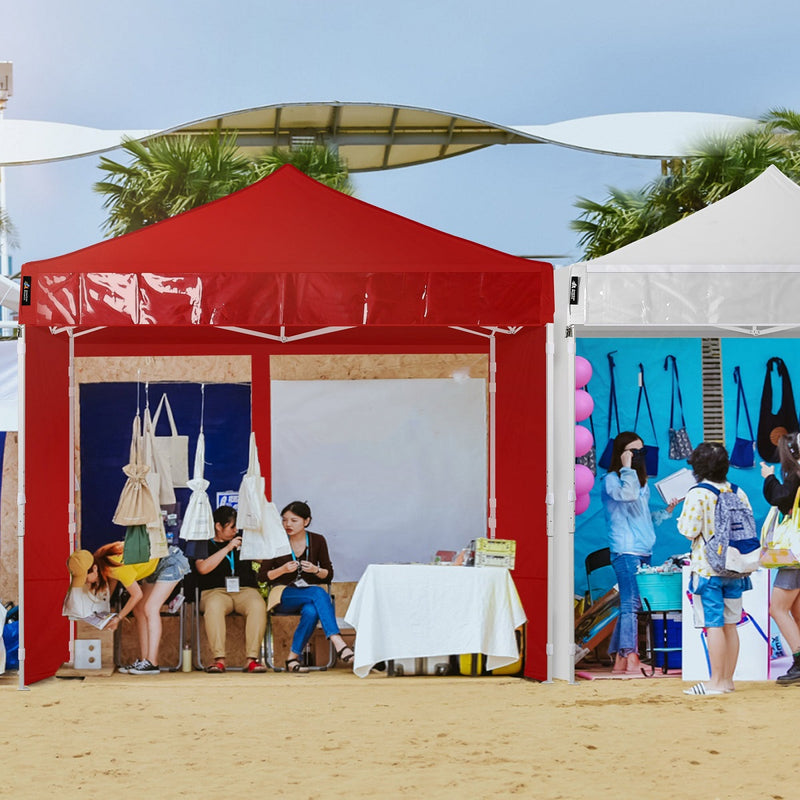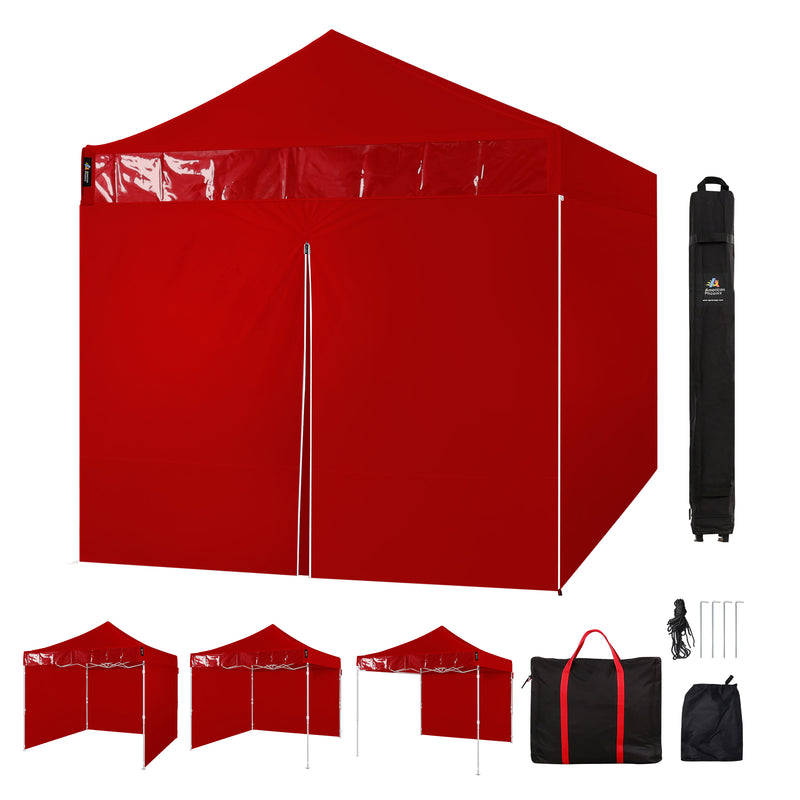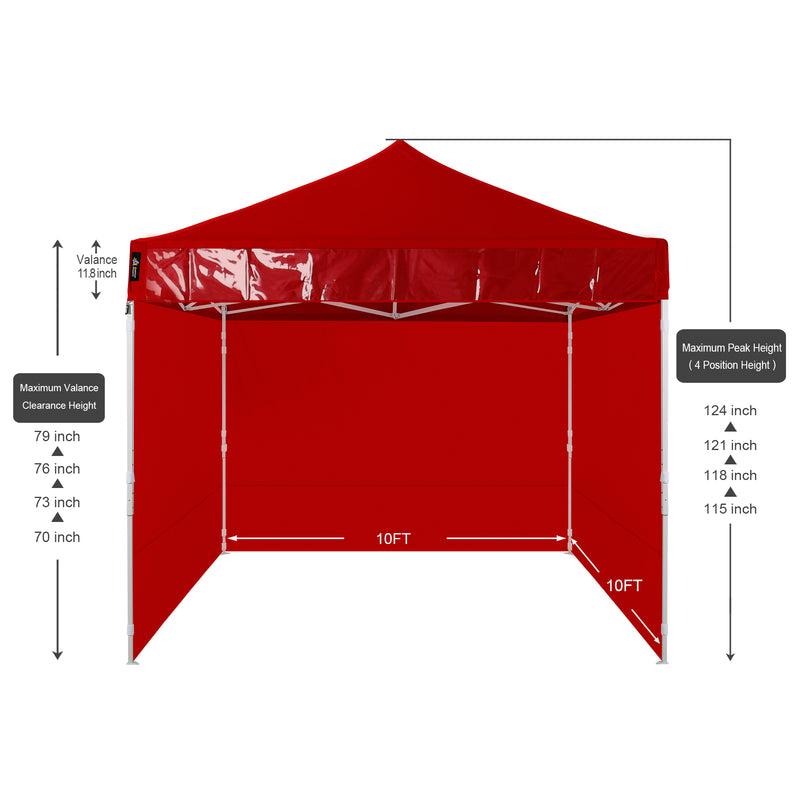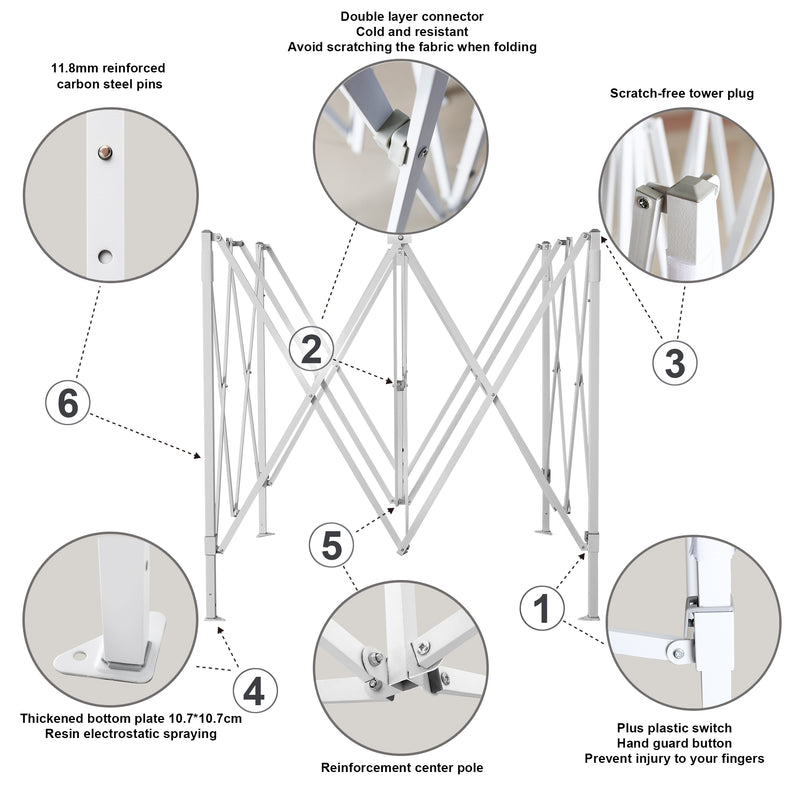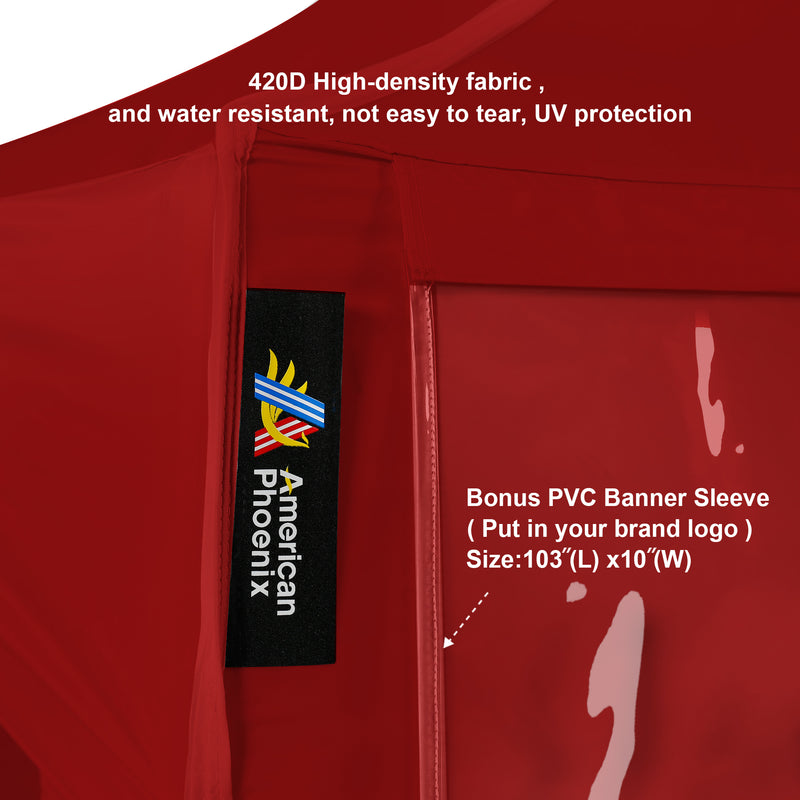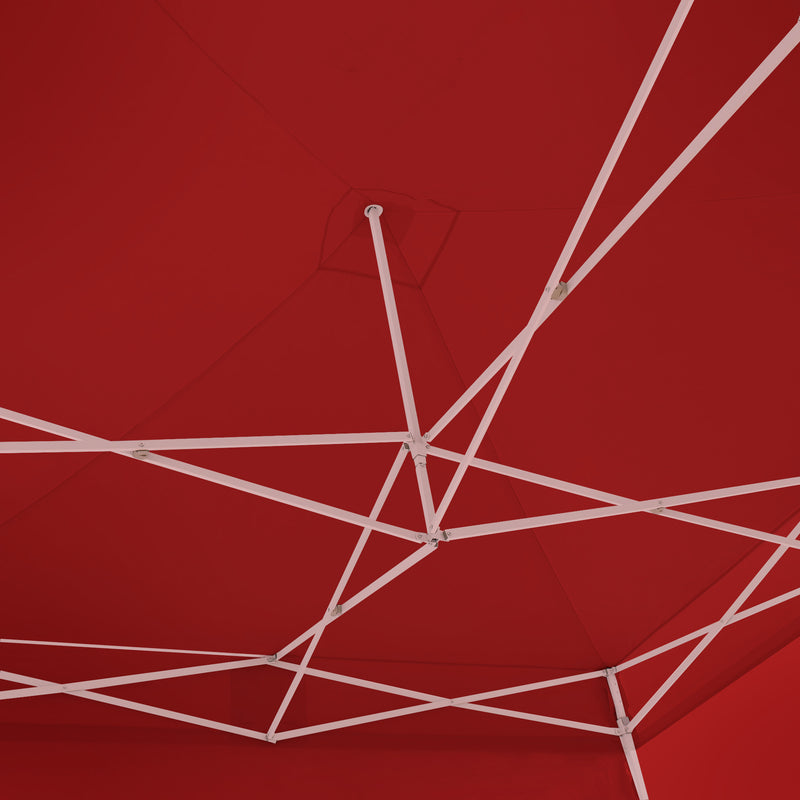 Canopy Coverage: White. 10x10FT of shade.Suitable for trade shows,business,art shows parties,picnics,camping, sports or any outdoor events

Canopy Frame Material: Steel. Powerful square tube bracket, sturdy and durable, anti-rust coating, not easy to deform. Reinforced center pole, sturdy and durable. Double layer new connectors, cold-resistant

Canopy Cover Top: Bright colors. High-density fabric, PVC coating water resistant, not easy to tear. UV protection. With 4 sidewalls, 3 pieces of single sidewall + 1 piece of single zipper door, and zipper connection between the sidewalls. Bonus a PVC showcase, freely put your advertisement or slogan and show your brand (Provide your slogan or brand, $49.99 of custom banners, takes 7-15 work days to ship, contact us now! )

Best Thumb latch lock system easy to lock and release. With no tools required. Just take the fully assembled frame with top out of the bag, pull open, place the fabrics over the frame,extend the legs and you are done. Height settings at will - 93 inch, 115 inch, 118 inch, 121 inch, 124 inch, five different height settings allow you to pick the height which you want

Package Include: 10FT x 10FT Frame; 10FT x 10FT Canopy Cover; 4 Removable Sidewalls (with Zipper Connection); Bonus PVC Showcase; Black Roller Carry Bag; 4 Stakes and 4 Ropes; Sidewall Bag
Specification

Frame: Steel frame, painted white and matte. Square shape legs. Rust & Corrosion resistant powder coated steel framework.
Outer leg 28x28x0.5 mm
Inner leg 23x23x0.5 mm
Cross bar 10x20x0.5 mm
Canopy Cover Top: 420D Oxford cloth, bright colors. High-density fabric, PVC coating, water resistant, semi-automatic, UV protection. Velcro along the underside of canopy to attach sidewalls
Sidewall Fabric: 420D Oxford cloth, high-density fabric. A white resin zipper links between the sidewalls, door zipper with two pull tabs
Options Maximum Peak Height (5 Height Positions): 93" - 115" - 118" - 121" - 124"
Connectors Dislocation Design:
1. Eliminate scratch between cross bar and deforming of cross bar to increase the use life
2. Eliminate the hurting risk in installation and closing
Tube casing-head plugs:
1. Overcome tension concentration of leg tube to avoid its deforming to increase its durability
2. Tower designing of casing head reduce hard pulling of canopy when setting up or closing

The package includes:
1x10Ft canopy frame
1x10Ft canopy top
3x10Ft sidewalls
1x10Ft middle door wall
Bonus 1x PVC showcase (canopy top front valance with name banner sleeve to customize and personalize your shelter. Help you attract customers.)
1x 600Dx600D black wheels roller bag
1x 600Dx600D portable zipper bag for sidewalls and top
4x stakes + 4x ropes (with bag)

Shipping Package Size: 62" x 9" x 9"
Weight: 58 lbs

Please Note: Our products are designed for Garden and Leisure activities. We have no control over the weather or ground conditions when this item is set-up. As with all other products of this nature this item is designed as a temporary structure and should not be left up overnight when heavy rain or winds could cause significant damage.